Four Core Fiction
Edited by Kimberly Kessler and Rebecca Monterusso
Getting to the Heart of Story
Every story has a moment we're waiting for—a climactic scene that sends an electric pulse of emotion through us—a moment of catharsis. In the Story Grid Universe, we've analyzed hundreds of stories looking for the source of that electricity. And now we've gotten to the heart of the matter in what we're calling the Four Core Framework: A core need satisfied or denied through the change of a core value in a core event that elicits a core emotion.
In this collection of twelve original works of fiction—one for each of our twelve story genres—we showcase the core events that make an audience gasp, sigh, or cry when they experience the emotional release they seek.
This anthology was written and edited by intrepid members of our Story Grid community inspired by the core events of masterworks in each genre. We hope it will encourage writers to explore new ways to improve their craft and captivate readers.
---
Stories by Genre
Action: Goliath Approaches by Leslie Watts, edited by Rachelle Ramirez 
War: The Confession by Tim Grahl, edited by Valerie Francis
Horror: Outpost 5 by J. Thorn, edited by Ira Heinichen
Crime:  Let Justice Prevail by Mark McGinn, edited by Leslie Watts 
Thriller: X Pass by Rebekah Olson, edited by Randall Surles 
Western: High Plains Migration by Shelley Sperry, edited by Larry Pass 
Love: I Brush My Teeth Left-Handed and Other Reasons You Should Date Me by Rebecca Monterusso, Edited by Danielle Kiowski 
Performance: Jaws by Courtney Harrell, edited by Melanie Naumann
Society: Above All Else by Shawn Coyne, edited by Tim Grahl
Status:  The Good Daughter by Rachelle Ramirez, edited by Anne Hawley 
Morality: An Artist's Test by Kimberly Kessler, edited by Abigail K Perry 
Worldview: Elixir by Julia Blair, edited by Catherine Lunardon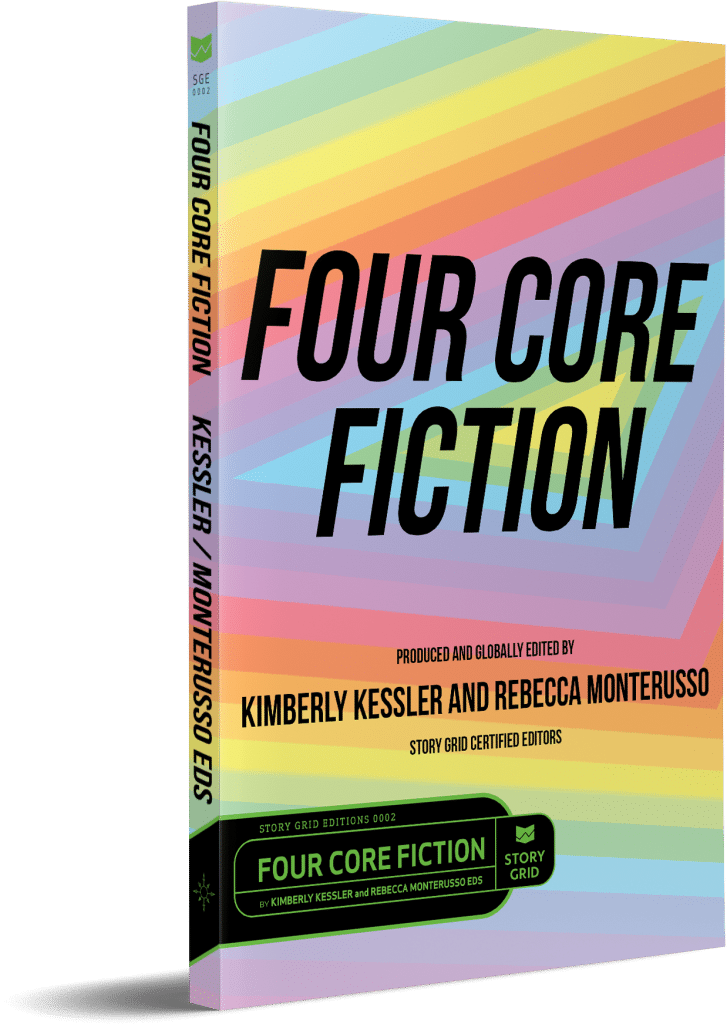 ALSO AVAILABLE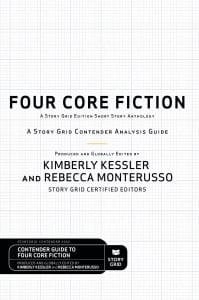 Four Core Fiction: A Story Grid Contenders Analysis Guide
Price: 9.99
Learn More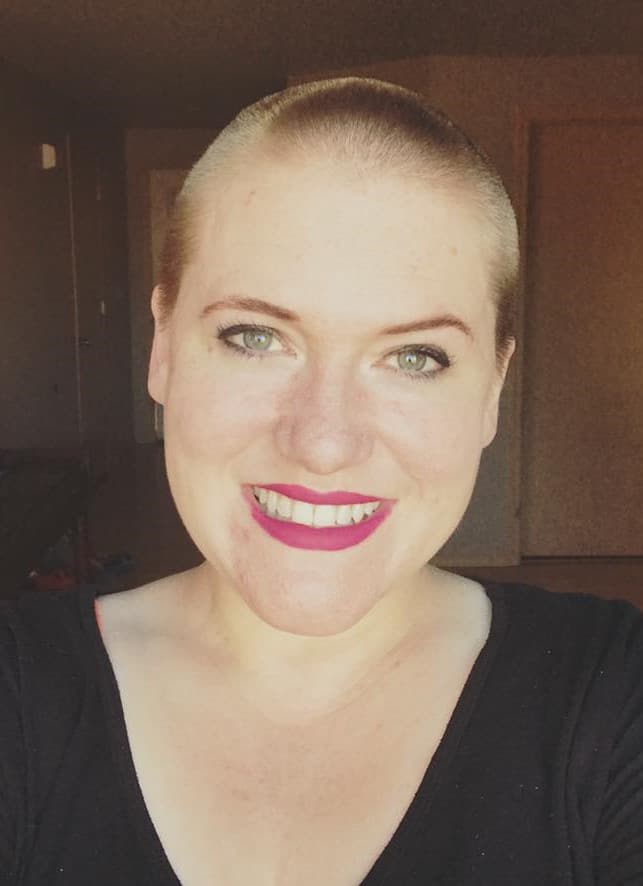 ABOUT THE EDITORS
Kimberly Kessler
As one-fifth of the Editor Roundtable Podcast, Kim has the divine privilege of nerding out every week studying story. She is obsessed with the internal genres and specializes in helping writers craft authentic character arcs in any setting. Her favorite stories use humor to explore and cope with grief and heartache. Her favorite clients are hungry to learn and bring their full authentic selves to the collaborative process. Nothing is more rewarding than digging in together to uncover the breakthroughs they need.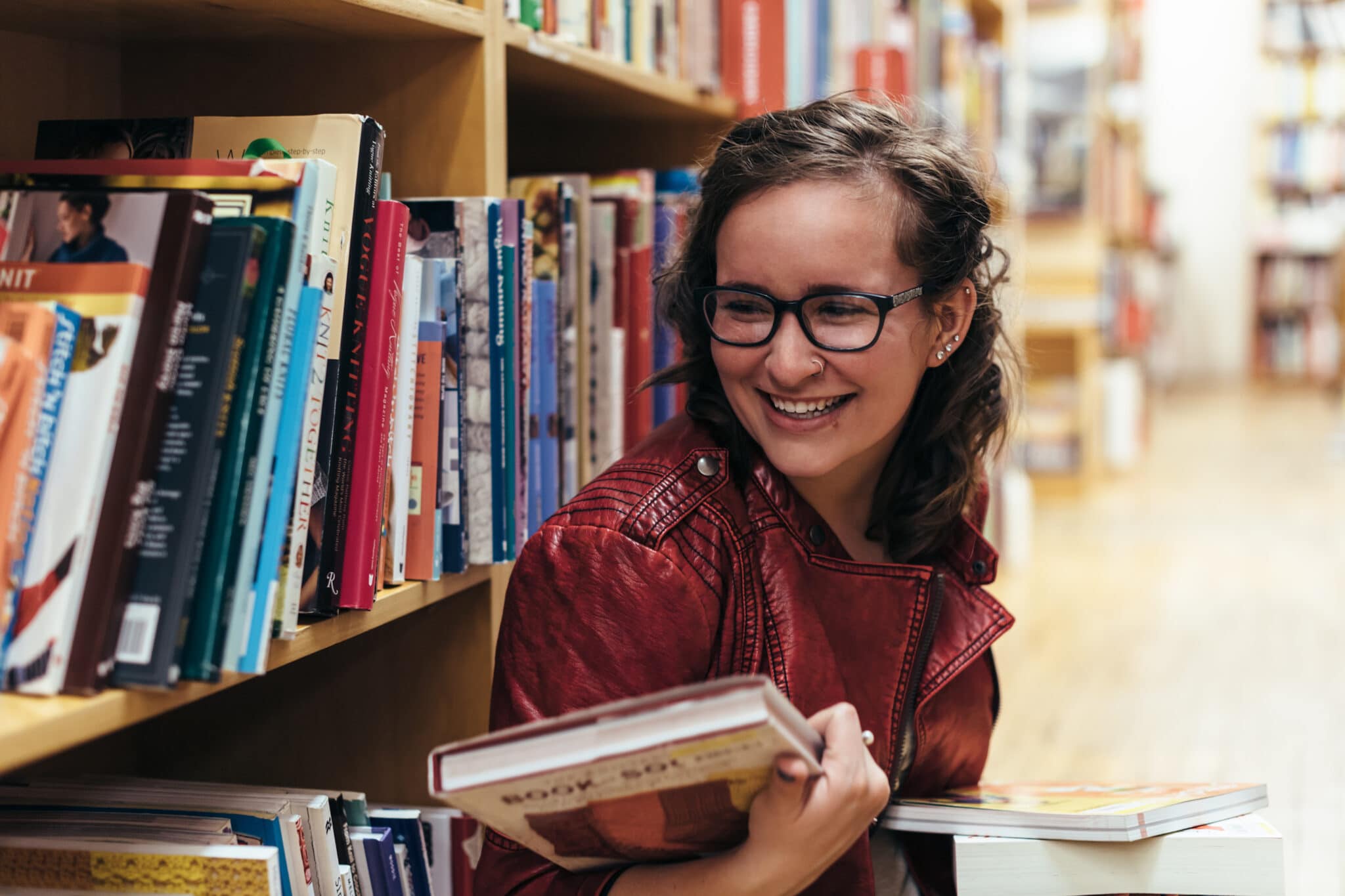 Rebecca Monterusso
Rebecca Monterusso describes herself as an analytical-creative and a renaissance soul. She has been to nine different countries, earned degrees in biochemistry and Spanish, and has held jobs in multiple industries from tutor to management consultant, flavor chemist to bookseller. All of which has helped her become an effective communicator and passionate learner. She enjoys reading books from all sections of the bookstore, but mostly YA and Big Idea Non-Fiction. Rebecca's goal is to help writers get their stories on the page and confidently share them. Her podcast, A Story That Works, and website, Creativity Through Constraints, work together to help writers figure out and solve their problems related to starting to write, finishing their stories, and sharing their work. She believes that stories are the only way to change the world, which makes writers mighty powerful people.